Using a Harvard Corporation filter system with your Mobile Equipment is an excellent option to keep your fluids clean and keep the water out. This can extend the life of the fluid well beyond your current fluid lifecycle. Our Patented Depth Media filter System allows a small amount of liquid to be filtered continuously while isolated from pressure drops or spikes.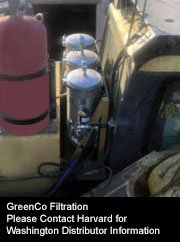 Harvard brand products are used extensively in the following industries, and we are continuing to explore new industries:


Construction/Heavy Equipment

Mining

Trucking

Marine

Agriculture


We have had great success in using Harvard Filters on engines, transmissions, hydraulics, fuel systems, and cooling systems since 1973. Oil and equipment have been tested when equipment has been overhauled and the results speak for themselves. The engines are many times within new engine specs even after well - surpassing the manufacture's recommended amount of time to overhaul the equipment. Refer to the case study case_study_overhaul.pdf for more details.

We offer multiple different options for various sizes of equipment reservoirs for most oils, fuels, and cooling fluids.

Our housings are crafted from quality, made in the U.S.A. materials such as steel with corrosion-resistant powder-coating both inside and out (standard option) and stainless -steel as an option
(additional cost).

We are also able and willing to meet many of your custom contamination control needs. If you require a custom filtration system, we will work with you to make it come to fruition. Contact Harvard Corporation by messaging, email, or phone. We are happy to assist in your advancement towards extending the life of your equipment and fluid, saving valuable non-renewable resources, and keeping your business profitability by utilizing healthy maintenance practices.